Burgh Antique & Collector's Centre offers a wide and interesting choice of vintage, antique and collectable items.  Located just a few miles inland from Skegness, the Centre stands on the High Street in Burgh Le Marsh next to the free car park.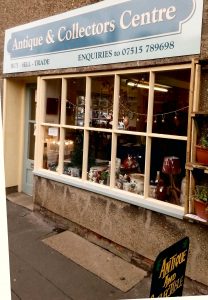 We now have 8 spacious rooms and over 30 cabinets displaying an extensive range of collectable, vintage and antique items including:
Gifts for all budgets;
Jewellery & watches;
Antique and modern glassware & china;
Lamps & Vintage & chandeliers;
Upcycled & handmade items;
Modern and vintage silver, brass and copperware;
Artist-signed pictures, lithographs & frames;
Books;  Models & figures;
Coins & stamps; Treen; Folk art; Breweriana;
Curios & quirky pieces;
Vintage radios, record players, electronics & hi-fi;
Small pieces of furniture.
A covered garden room displays outdoor items including pots, ornaments, planters, garden tools & furniture.
Stock changes daily – the website can only give an idea of what we have here for you – we are only a few miles from the holiday resort of Skegness in Lincolnshire so click here to plan your trip.
Burgh Le Marsh Antique & Collectables Centre
41 High St
Burgh Le Marsh
Nr. Skegness
Lincolnshire PE24 5JP   (next to free car park)
Please note new opening hours

Tuesdays to Saturdays  – 10am to 4pm
Sundays – Closed (or by appointment)
Closed Mondays

Please note we follow government regulations
& advice regarding Covid

Some Tripadvisor feedback for Burgh Antiques & Collectables Shop
Bit of a Tardis… Wonderful shop with wonderful owners… The staff was very helpful… fantastic treasure trove of a shop… Good for finding different things for presents…. Worth taking a detour from the main road to visit… clean well kept tidy, well lit every were you look there is something… cabinets and rooms packed full of interesting things… Easy parking in square next to the shop…  Pretty village overall well worth a visit… Lovely antiques centre with some really quirky goods for sale… staff are both friendly and knowledgeable… lose yourself for an hour browsing the shelves, definitely worth a visit… Great shop with lovely staff manning it… Will visit again when next on holiday… visited this gorgeous little shop whilst holiday in Skegness… a place where bargains can be found… many rooms each packed full of diverse fascinating bygone treasures with a hidden courtyard… items are all of very good quality and very friendly staff… Cracker of a place… great prices, a joy to walk round… full to the brim of eclectic ephemera well worth a visit… 
What will you discover here?